8 Day Uganda Classic Birding Safari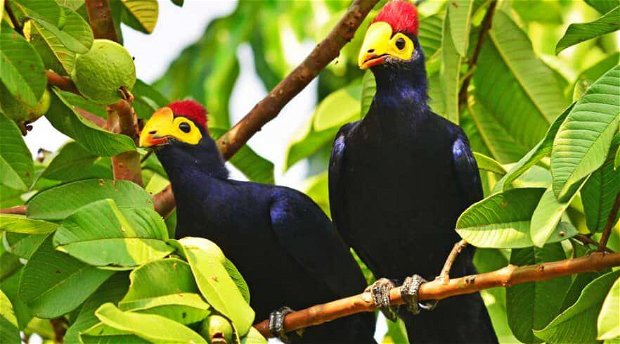 Itinerary
Early arrival at Entebbe airport, you will be welcomed by our birding guide who will drive you to Mabamba wetland bay to watch birds for 2-3 hours, using dugout canoe, explore the wetland in search for swamp species and the famous bizarre shoebill stork.
Day 2
Birding to Lake Mburo National Park
This day after breakfast, your birding continues westwards of Uganda with a stop along Kako swamp before arriving at the national park in the afternoon. Bird species to look out for include: African fin foot, white backed night heron, Rufous bellied heron, White winged warbler and so much more.
Day 3
Swamp Walk Birding Excursion
Watching birds before breakfast gives an opportunity to see early risers around camps surroundings and Lake Mburo swamp areas which may include: Red faced barbet, green backed woodpecker, Tabora cisticola, cuckoos, grey-capped warbler, and black-headed weaver, brown-chested lapwing, rufous-napped lark, black-bellied bustard, lilac-breasted roller, helmeted guinea fowl, Coqui francolin, plus many raptors. Return and catch up with your lunch, later, transfer to Queen Elizabeth Park.
Day 4
Birding in Queen Elizabeth: Savannah Birding
Birds here include: African fish eagle, Pallid Harriers, Black tailed Godwit, Slender billed gull, Common tern, Spoon Bill, African Skimmers, Great White pelican, Pink backed pelicans, Saddle billed stork, Martial Eagle, lesser Flamingoes and so much more. In the afternoon take the safari by boat for a cruise on the Kazinga channel. This is a great chance for you to spot more of the birdlife.
Day 5
Birding the forest endemics, Bwindi National Park
Continue your bird watching to Bwindi national park through the Ishasha sector famous for its tree-climbing lions. Birding along the main road and Northern circuit offers you lots of opportunities to see raptors. Bwindi forest species: Ross's Turaco, Black billed Turaco, Black bee-eater, Strange weaver, Magie manikin, Grey headed negrofinch, Black billed weaver, Black necked weaver, Stuhlmann's starling, Pink footed puff back, Bocage's bush-shrike, Ludher's bush shrike, Narina tragon.
Day 6
Albertine Endemics – Bwindi
This day is planned out for a full day bird watching along the waterfall loop and forest trails searching for rift endemics and other species of interest. Possible sightings of the endemic species include; Black bee-eater, short tailed warbler, purple breasted sunbird, yellow eyed black flycatcher, red faced woodland warbler, brown capped weaver, red throated Alethe, Kivu ground thrush, Strange weaver, Black faced apalis among others.
Day 7
Whole Day Birding Albertine Endemics – Ruhija Bamboo Zone
This morning after breakfast, transfer to the Ruhija birding section birding along the way. Ruhija the highest point of Bwindi park at 2300M high offers you an opportunity to see more of the endemics.
Day 8
Back to Entebbe/Kampala
This day is reserved for a transfer to Entebbe International airport, End of the trip.