7 Day Nyungwe, Gorillas & Queen Elizabeth National Park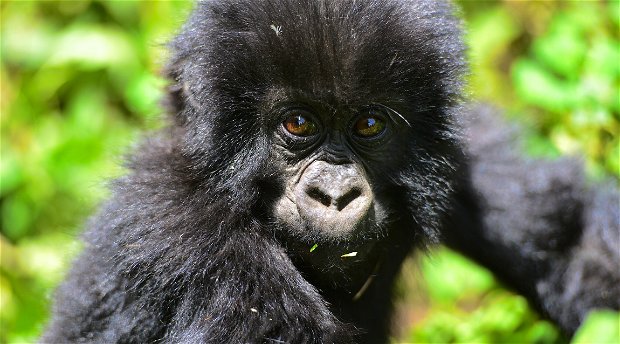 Itinerary
Day 1
Pickup in Kigali and Transfer to Nyungwe National Park
Pickup in Kigali then transfer to the Nyungwe National Park en-route visit the ethnographical museum and the King's palace which gives insights to the pre, past and colonial time and shows how Rwandese used to live, their culture, etc.
Transfer to Nyungwe. Dinner & Overnight at Nyungwe Top View Hotel
Day 2
Chimpanzee Tracking and Canopy Walk Way
Early breakfast (5:00am) then transfer to the Park headquarters for briefing and grouping followed by a drive to the edge of the forest to track the human closest animals Chimpanzee.
The day ends with one of the most tourism highlight amazing canopy walk atop a 70m bridge raised above the beautiful green canopy of the ancient Nyungwe Forest, from the bridge one can identify a number of amazing birds. Dinner & Overnight at Nyungwe Top View Hotel.
Day 3
Waterfall Hike in Nyungwe National Park & Transfer to Volcano National Park
After the early breakfast, then drive to the Park reception for a briefing and start the hike to the famous Waterfall and enjoy the views of the ancient forest with different flora and fauna plus very beautiful trails along the way.
Transfer to Volcanoes National park destination, Overnight at Five Volcanoes Hotel.
Day 4
Refresh and Transfer Bwindi National Park
Breakfast and refresh around town, Village walk, take lunch then in the afternoon transfer to Bwindi National Park. Overnight at Rushaga Gorilla Camp.
Day 5
Gorilla Transfer – Bwindi National Park & Transfer to QENP
After breakfast, we transfer to the park. After completing our park formalities, we embark on a once in a lifetime experience of tracking mountain gorillas.
Once you spot them you are allowed to spend an hour watching your closest long-lost cousin. This is perhaps one of the most breathtaking wildlife experiences on earth!!! You get so close to these awesome giant primates. You stare at each other blankly not knowing who to break the long silence first. Tracking the gorillas through the light mountain forest is a magical experience. 
Be back at the base in time for lunch! Some gorilla families, however, are more elusive and tracking can take a full day, especially when it is wet and muddy.
Transfer to Queen Elizabeth National Park. Dinner and Overnight at Mweya Safari.
Day 6
Game Drive in the Park & Boat Cruise
Breakfast and start the game drive in the park in Kasenyi plains to search for lions, leopards, elephants, buffaloes, Uganda cobs, bushbuck, waterbuck, etc.
After lunch drive to the Kazinga channel for the boat cruise to see schools of hippos, water birds, giant Nile crocodiles, monitor lizards, elephants, buffaloes, to mention but a few. Dinner and Overnight at Mweya Safari.
Day 7
Nature walk & Transfer to Kigali
Breakfast at the hotel then walk to the visitor information center to meet your guide who will take you for a guided walk around the Mweya peninsular. Transfer back to Kigali.