4 Day Best of Tanzania Safari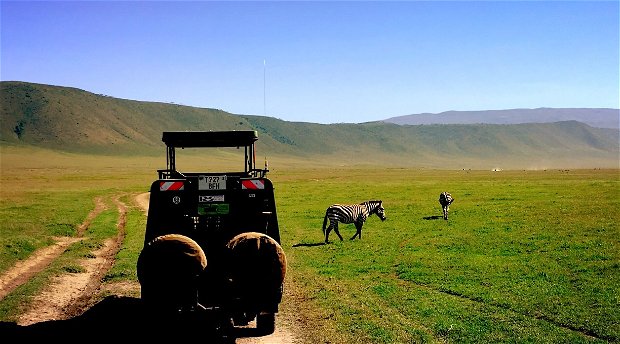 Itinerary
Day 1
Arusha-Lake Manyara National Park
In the morning, after your breakfast, our Jungle Junction LTD driver/guide will pick you for the 130km drive on a good tarmac road with a picnic lunch on board to Lake Manyara National Park. Along the way, we pass via Masai in their colourful clothes by the roadside attending to their cattle with the beautiful sweeping rift valley landscape drawing our attention to the beauty of the planet earth.
Manyara hosts Flamingos and over other 400 bird species and mammals like lions, hippos, elephants, zebras, buffaloes, giraffes, blue and vervet monkeys, warthogs amongst many more. We will enjoy our picnic lunch during our extensive game drive and with the day coming to an end we continue to the lodge for dinner and overnight according to your request.
Day 2
Manyara-Serengeti National Park
We make an early start today to most of our adventure and after breakfast at 0600hrs we set off to our adventure to one of the seven wonders of Africa. Serengeti being the largest National Park in Africa at 15,000sqkm is a home of some three million large mammals and is made up of a diversity of landscapes with the southern region being nominated by the grassy plains that draws the two million wildebeest, half a million zebra and a quarter million antelope to make hazardous journey in search of pasture when the autumn rains come.
The big five and many more mammals can be viewed and the largest flighted bird in the world, the Kory bustard. We will wind our way to our selected lodging to unwind dine and take our ease by the fire under the endless East African sky.
Day 3
Serengeti-Ngorongoro Crater Rim
Again, an early start before breakfast, we set off at 0600hrs for a game drive on the Serengeti plains "Endless plain" in maa, the tongue of the Masai worrier tribe who have called the scape of land their home for millennia. We return to our lodge at 0845hrs for breakfast. Set off to Ngorongoro highlands enjoying the game drive en-route looking forward to our rest at the lodge high up on the crater rim where we can enjoy our dinner and the sweeping landscape spread out before our eyes. Overnight at the lodge/camp.
Day 4
Ngorongoro crater tour-Arusha
Rise and shine visit an extraordinary landscape again take an early breakfast so that we enjoy our adventure to the maximum. Ngorongoro is a home of 25000 large mammals including the Big five and others like wildebeest, gazelle, reedbuck, bushbuck, hartebeest, hippo, antelopes, both Grant's and Thompson's gazelle, impala, to name a few and over 500 bird species.
Have a picnic lunch, driving further to Arusha town. Dinner and overnight/ Airport drop off. End of the trip.